Hi All,
As mentioned in http://www.badvoltage.org/2014/04/24/1x14/, we recently ran a Bad Voltage listener survey to gather some input on what you feel about the show. I wanted to present the bulk of those results here.
Now, we used SurveyMonkey for this and unfortunately they only show you the first 100 results, but our total results was more like 120, so I think the trends shown here are pretty representative.
Very keen to hear feedback on how we should parse these results and recommendations to make the show better!
Question: How often do you listen?
Here the participant could pick one of these options for how often he/she listens to the show: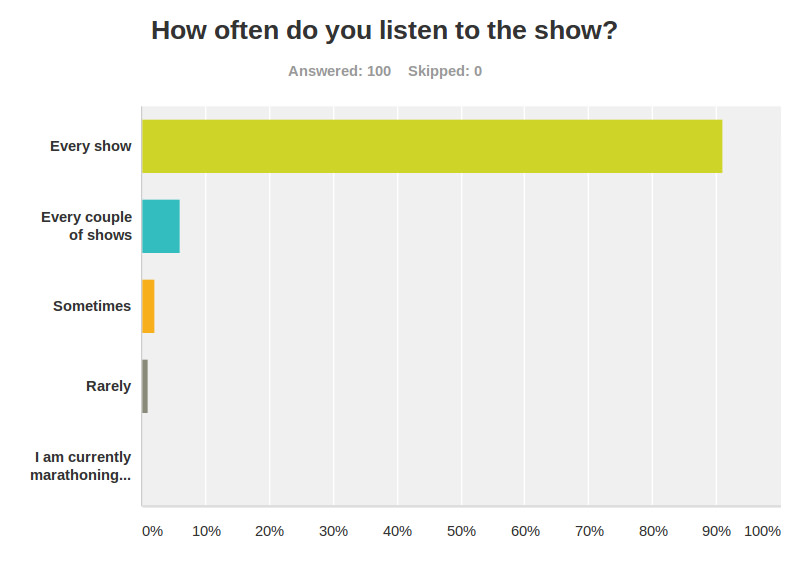 This is really encouraging. It suggests that the show is interesting enough that people back regularly for more. Naturally, we want to encourage this trend.
Question: How do you get the show?
We allowed participants to pick multiple of the following options (people may listen to the show in multiple ways):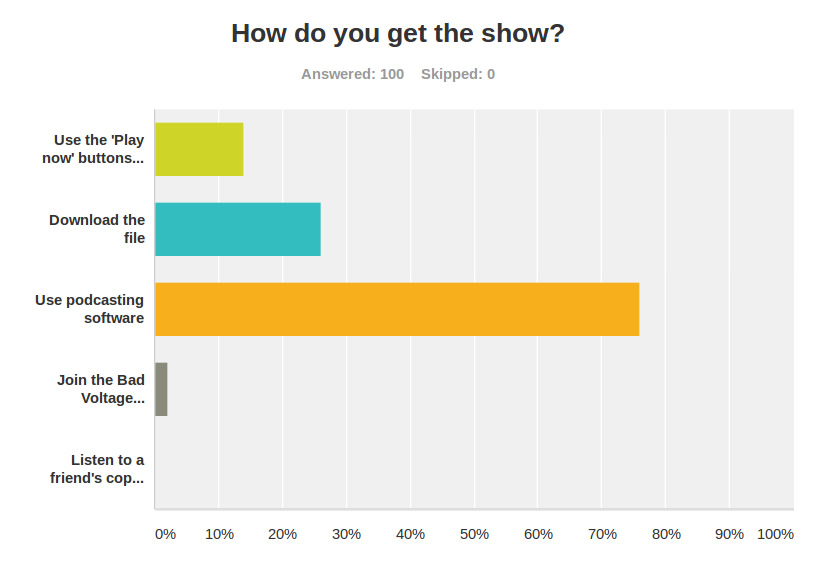 This surprised us. A lot more of you use podcasting clients than we expected. We assumed that the streaming buttons on the show page were the most popular way of listening. I think it could be handy to provide some guidance for how people can listen to the show from their fave podcasting client for new listeners.
Question: How would you rate the different segments?
We asked the participant to rate the options from 1 (fave) to 7 (least fave) to give us an idea of which segments are of most interest: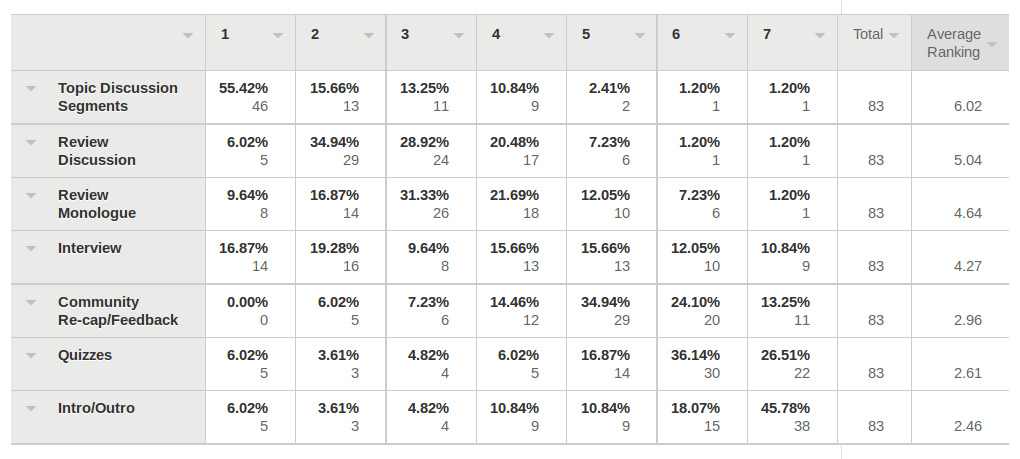 For a while now we have been unsure of how popular the interviews and reviews are. We like them as we feel it breaks the show up and makes it into more of a variety show as opposed to just the four of us rambling on.
It seems that our listeners generally enjoy the reviews and interviews more than I think we expected.
Question: What topics most interest you?
In this question the participant could pick multiple options.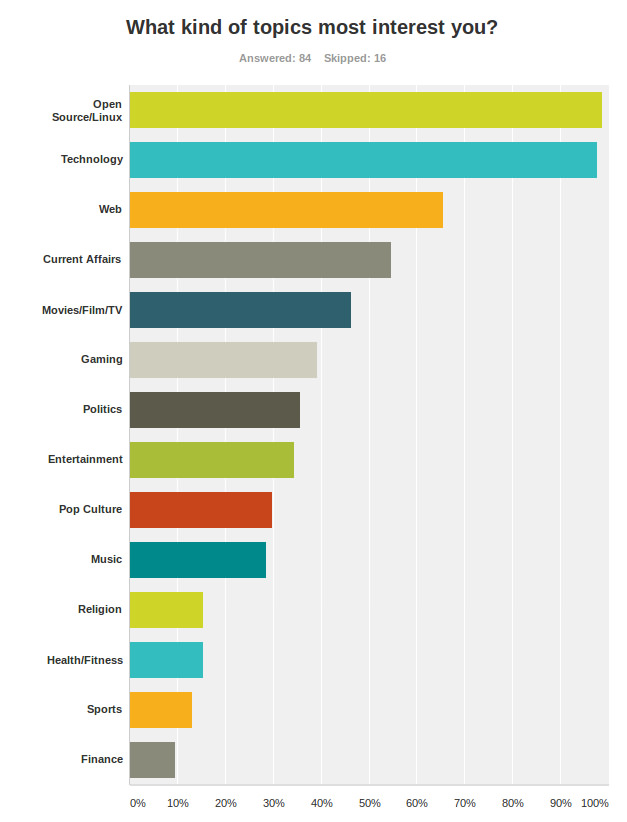 This gives us a great idea of the most popular topics, and rather unsurprisingly technology and Open Source come in at the topic. This is the core fabric of the show and that isn't changing.
This list also gives us a good idea of other topics that people may enjoy; for example, Web and Current Affairs was more popular than we expected. None of us were surprised that Sports is near the bottom.
This will help guide our topic choices on the show - we will still fundamentally pick what we think is great content (we won't pick shitty or uninteresting content just because it backs up the survey), but the survey helps give us an idea of general interest.
Question: How would you rate the quality of different aspects of Bad Voltage?
Here participants can pick one rating for each item: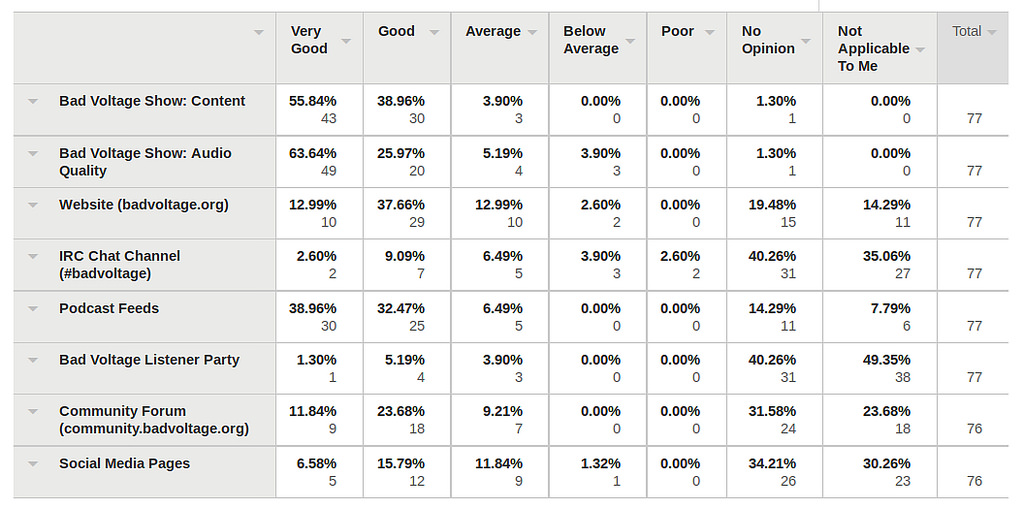 When reading this it is important to note the No Opinion and Not Applicable To Me answers.
In terms of the show content and audio, the results are very positive. The Website seems like it overall serves its purpose.
Interestingly, not as many people as we expected are participating here on the forum or in #badvoltage. This is an area we want to fix: we want to encourage wider participation in our community…we see our community as a fun natural extension to the show.
What ideas do you have for growing community participation?
Question: What aspects of Bad Voltage do you find most enjoyable?
Participants could provide multiple answers to this question. This is designed for us to get a better idea of which aspects of the show are most interesting: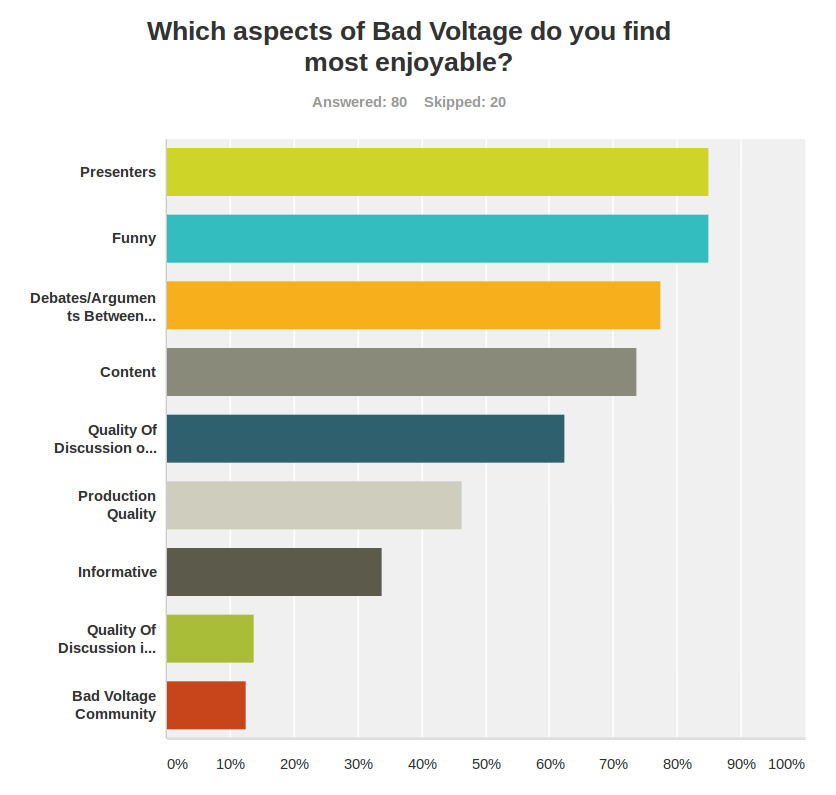 It is pretty clear that the four of us being funny and arguing is the most attractive aspect of Bad Voltage. This is not entirely surprising; this is exactly what we want Bad Voltage to be…not a dry deliverer of information, but a fun, entertaining, and at times challenging show.
On a related note, in another question we asked what people most like about the show and a huge amount of responses were about the banter between us. Great to know we are on the right track.
Question: Is Bad Voltage worth listening to?
Here we wanted to see if overall the show is worth your time. Participants could provide one answer: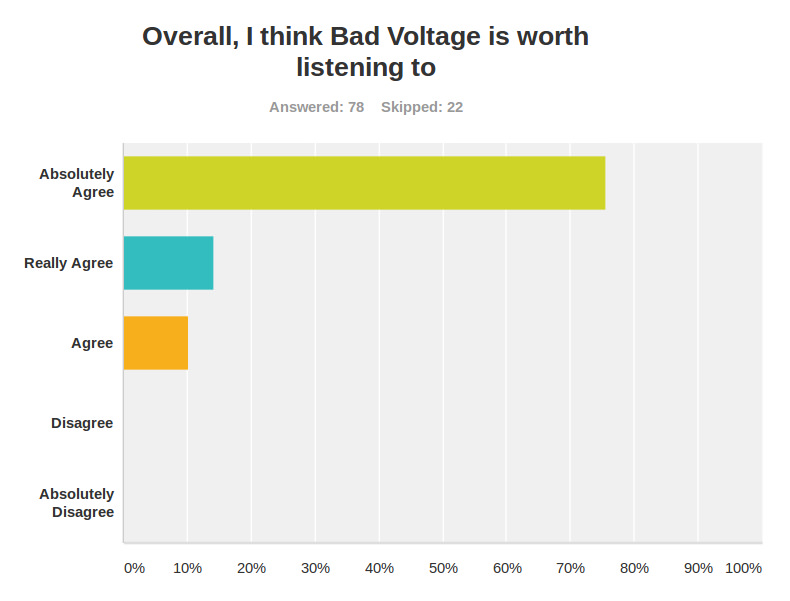 Not a single person disagreed with the value of listening to the show. Not entirely surprising as this is a Bad Voltage survey, but many people use surveys to put the boot in, so this is indeed, very encouraging.
Good / Bad aspects of Bad Voltage
We provided two questions where participants could type in which aspects of the show they liked and which aspects they felt could be improved. I always feel uncomfortable about putting textual data from surveys online (in case it could be tracked to the respondent who wants to be kept anonymous).
As such, I will summarize the overall results. Sure, some of you might not trust this summary, but…deal with it.
Things that work well:
The vast majority of people love the banter, interaction, and chemistry between the four of us.
Topic selection.
Good balance between technical/non-technical topics.
Audio quality.
Things that could be improved:
Interview audio quality (a little difficult here as it depends on the constraints of the interviewee).
Many want the show weekly (not happening due to our schedules).
Some want video in the show (we make a conscious decision not to do this. It is hugely time consuming and the results look amateurish with webcams and we don't have full production facilities).
Conclusions
Overall, I am taking the following conclusions from this survey:
Overall, I think we are on the right track. People seem to be enjoying the show.
The current structure of the show in terms of segments seems to be working well.
Our topic selection is broadly in line with listeners enjoy, but the responses here can help guide additional topics and ideas.
Not as many listeners as we would like are participating in the community aspects of the show. We want to come up with ideas for how to grow this.
Thanks for everyone who participated in the survey, and feedback and comments welcome!